Raceday 2018 – Schedule & Directions
Schedule
Give yourself plenty of time to orient yourself and make your way to the Sculpture Garden and Cambridge Parkway.
11 AM sharp – opening ceremony at the Sculpture Garden
11:10 or so – staggered race from the Garden down Cambridge Parkway and back the same way.
11:50 or so – awards ceremony at the Garden
12-6 – sculpture racing exhibition at the Garden
Location
The Sculpture Garden and the Start and Finish lines are at the top (north) of  Cambridge Parkway.  There's no parking there.
THREE MAPS (the first two are upside-down)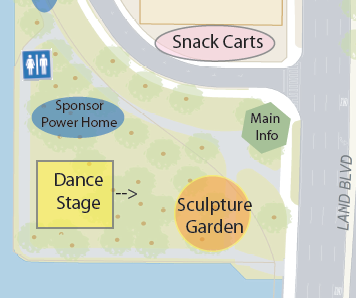 The Sculpture Garden. This above map is upside-down (east is to the left!)

Walk to the Sculpture Garden along Lechmere Canal, which runs east from Cambridgeside Galleria (the above map is also upside-down; east is to the left!)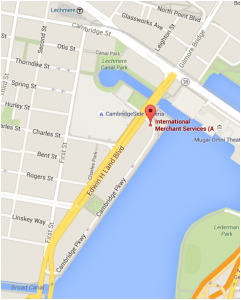 Cambridge Parkway runs along the Charles River near the Science Center. (This map is correct.)

And where is all that? (Red marker is right next to start/finish line.)
How do you get there?
Walk easterly from the Cambridgeside Galleria past the fountain, along the Lechmere Canal, under Land Boulevard, towards the Charles River.
If you're dropping someone off, drive in a northerly direction along Land Boulevard (the wide orange road on the map), and pull over just before or after Cambridge Parkway, which runs east/to the right off Land Boulevard (you can use "International Merchant Services" on your GPS).
Parking
Cambridgeside Galleria Garage (100 Cambridgeside Place) –5 hours or fewer $11;  more than 5 hours, daily max of $22.
First Street Garage (Spring St at First) – 5 hours is $8; more than 10 hours is $20.
There is metered parking to the west of the Galleria, and then, further west, resident parking.
The T
10 Minute Walk
Lechmere Station
Science Park
20 Minute Walk
MIT/Kendall
Charles/MGH are 20-minute walks.
We look forward to seeing you!