Daniel Rosenberg of the Harvard Physics Team demonstrates the Sisyphus Gravicar racing sculpture and the special track that their team will continuously lay down ahead of the racing vehicle. All photographs by PSR photog Andrew Held, unless otherwise indicated.
PSR held a Sculpture Racing Design Exhibition at the MIT Museum which feature a talk, a demorace, and posters, prototypes, and mockups of virtually all of the sculptures that will race on June 6, as well as race-ready work, and youth workshop projects. The work was distributed inside and outside the Museum. This was a signature event of the 2015 Cambridge Science Festival. Here's the Festival's description:
"Meet a new generation of racing sculpture artists! Builders of all ages will be exhibiting their design concepts as well as completed projects. Participation in the showcase is open to anyone interested in displaying their racing sculpture designs and finished projects – please see People's Sculpture Racing website (www.sculptureracing.org) for design & submission guidelines. Then, cheer on your favorite racer in an exciting sprint around the block. Lesley University Art Professor Geoffrey Koetsch will give a multimedia presentation on the history of sculpture racing in Cambridge."
INSIDE THE MUSEUM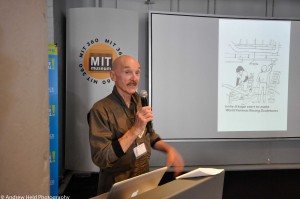 "The History of Sculpture Racing in Cambridge"–talk given by Geoffrey Koetsch, Co-Founder of the World Sculpture Racing, and Professor at Lesley University College of Art & Design.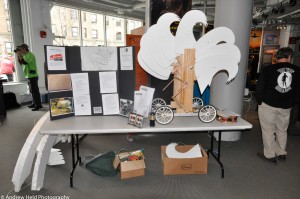 Steve Hahn's Tsunami Wave Machine on the right. To the left, a poster of Artisan's Asylum's Bedlam Express.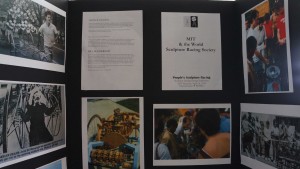 "MIT & the World Sculpture Racing Society," showing works by two WSRS artists with long histories with MIT & the Museum–Arthur Ganson, whose work 1982 WSRS racing gizmo Faster! is on permanent display at the Museum, and the late Bill Wainwright, who worked with Buckminster Fuller at MIT. The Museum accessioned Bill Wainwright's wheel #2, which was on display at the Exhibition and later won the Cambridge Arts River Festival race. (Herold photo)

Poster & mockup of Gianna Stewart's Two Orbits Roll Along (left) and poster of Jehanne-Marie Gavarini's Canard (right).

PSR Member Bill Turville's poster of the three works he will race: Apocalyptic Apoplectics; Chariot of the Cods; and Big Fish.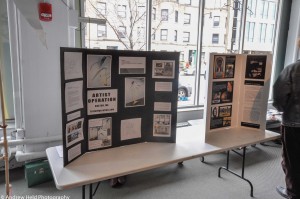 Poster of Artist Operation's Flock (2015) (left), whose prototype may be seen below in the outside images.

Jay Havighurst and friend exhibit their poster of Rolling Slit Gong (2015).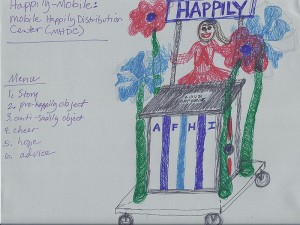 Also showing at the Exhibition was Be with a mockup of her Happily-Mobile racing sculpture.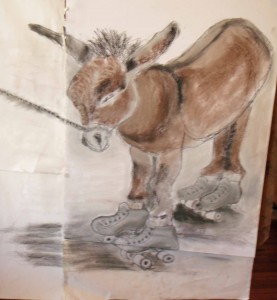 Scott Ruescher showed off this image and also a tiny mockup of the Harvard Arts in Education Team's BiblioBurro.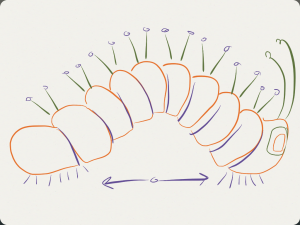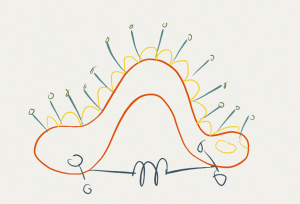 Not present at the Exhibition, but planned for the June 6 race is the Katz Team's Caterwauler, which will hunch along in an inchworm-like movement.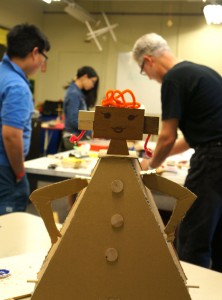 Rosie the Robot was also on display inside. Rosie was created at the beginning of the Cambridge Science Festival by youth under the direction of PSR Instructors Bill Turville (right) and Jeff Del Papa. Rosie is too young to race this year. Maybe next year! (Herold photo)
OUTSIDE THE MUSEUM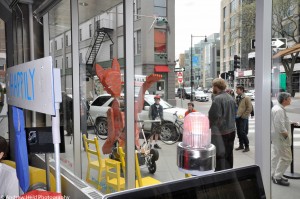 Through the window.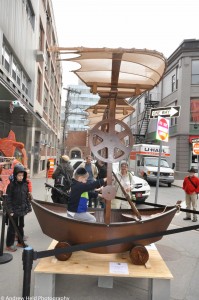 Leonardo's Flying Machine by Mitch Ryerson, on loan from Revels.

Bill Wainwright's #2. Later to be raced by James Herold.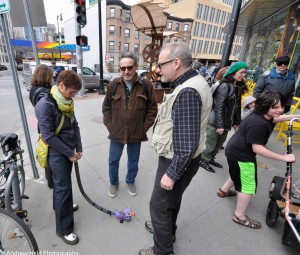 Jehanne-Marie Gavarini introduces Canard to PSR Director Christian Herold.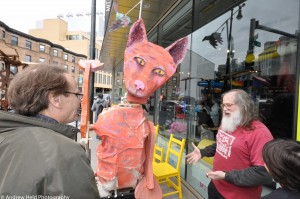 Jeff Del Papa (right) introduces Dizzy to Jay Havighurst (left). Dizzy is a production of a youth workshop led by Del Papa the prior week at Parts and Crafts, the "family makerspace and community workshop" in Somerville.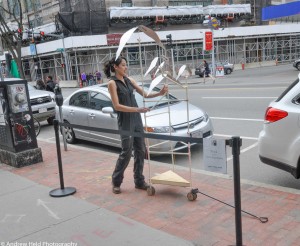 T.T. Svoronos shows off Artist Operation's Flock prototype.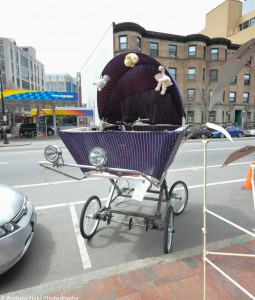 Giant Baby Carriage, by Anonymous.
  We thank Faith Marie Dukes, the MIT Museum, and Arthur Ganson
for making the Sculpture Racing Design Exhibition possible.