Jeff Del Papa exhibits Dizzy the cat from a Somerville Parts and Crafts workshop he led (Parts & Crafts photos). Del Papa and Bill Turville taught a Science Festival Workshop at the Museum (MIT Workshop photos), which created Rosie the Robot. Dizzy & Rosie were on view at the Exhibition, and Dizzy raced.
Here's Jeff at Parts and Crafts, demonstrating the model for Dizzy.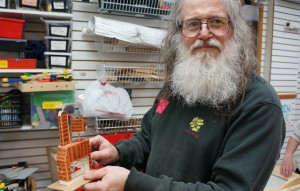 Jeff Del Papa and William Turville also held a workshop at the MIT Museum on Saturday. Below is Bill and Rosie the Robot, which was featured at the Exhibition. Rosie was deemed too young to participate in the race. Maybe next year!
Jeff is also teaching a 4-week workshop at Artisan's Asylum.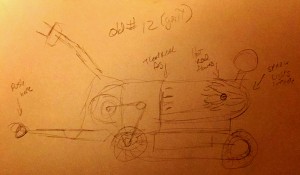 They are building a large-scale model of a locomotive-style belt sander that they are naming Bedlam Express (see schematic).