PSR contenders raced six sculptures and exhibited their designs at the MIT Museum at the end of April–a signature event of the 2015 Cambridge Science Festival. Click for race video, images, and links to details.
PSR Team Member Rock Louis's timelapse video overview of the Exhibition and Race (1:30).
Here's the full version in all of its wonderfulness!
More….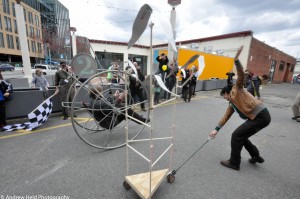 Six sculptures raced in the Circumambulation of the MIT Museum demonstration event out of the field of 17 that will race in June. Please see the full story of the demonstration race here with lots of images!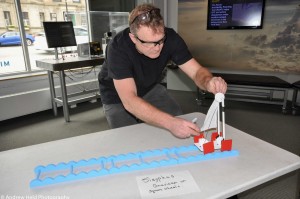 The Sculpture Racing Design Exhibition at the MIT Museum included posters, prototypes, and mockups of 15 of the 17 sculptures that will race in June. Also featured were two works made in PSR youth workshops. Please click this link to go to the full Exhibition story with lots of images!
With thank Faith Marie Dukes, Arthur Ganson, and the MIT Museum
for making the Exhibition & Circumambulation possible.
Covering image
Geoff Koetsch, sculpture racing co-founder, starts off PSR's inaugural race around the MIT Museum on Sunday, April 26 2015, with the Exhibition a signature event of the Cambridge Science Festival
Images by PSR Photog Andrew Held