Our Founders: The World Sculpture Racing Society (WSRS)
"What we want to do is create an art form that has a mass appeal that has the context of a popular art form, a popular thing like a race, but also works at on high level that is the pieces could be shown in an art gallery or a museum as well" — WSRS Co-Founder Geoffrey Koetsch, News 4 Video, Milwaukee, 1987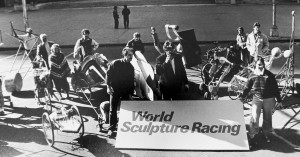 People's Sculpture Racing was directly inspired by the World Sculpture Racing Society, which ran races during the Cambridge River Festival and in other national and international locales in the 1980s.
The Society was founded by Geoffrey Koetsch (a/k/a Jeff Kage) and Kirby Scudder.  Integral members of the society included Arthur Ganson, the late Bill Wainwright, George Greenamyer and Pat Keck. Its events were "part street theater, part performance art, part sporting event…." writes Keck.
Please see more about the WSRS artists below the WSRS's First Manifesto, including examples of their racing sculptures and suggestions for designers. Photos in these tribute pages are by Geoffrey Koetsch and used with his permission.
The First Manifesto of Sculpture Racing (excerpt)