Introducing this year's jurors! (Also see followup article about when we met.)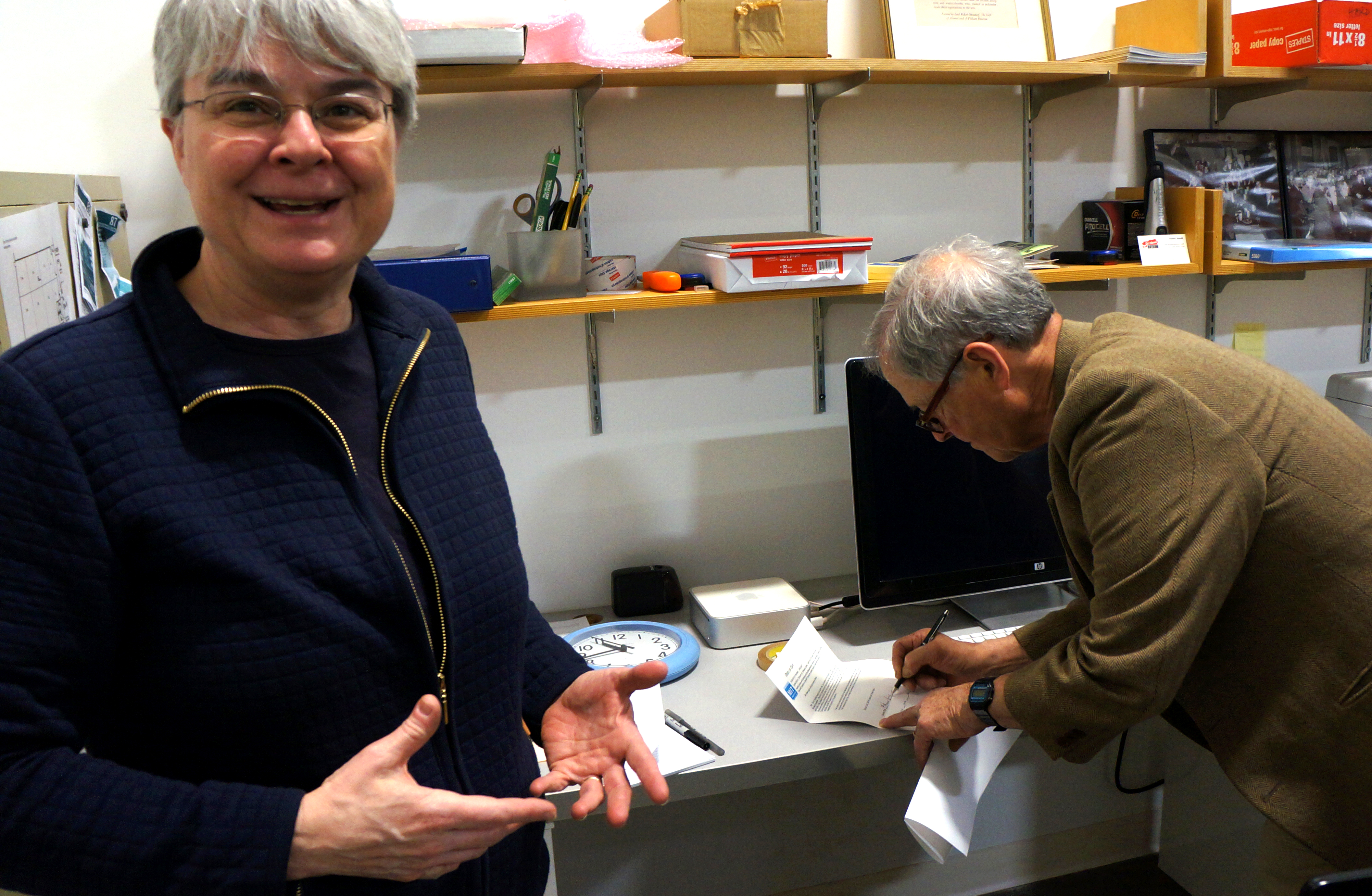 Debbie accessioning Wheel #2 for the MIT Museum from Lionel Spiro in 2015 after it won the first People's Sculpture Race.
Deborah G. Douglas, Director of Collections & Curator, Science & Technology, MIT Museum
Deborah G. Douglas oversees the MIT Museum's extensive science and technology collections. Prior to joining the museum's staff in 1999, she worked as an independent scholar specializing in the history of technology and science. From 1994 through 1999, she served as the Visiting Historian for the NASA Langley Research Center in Hampton, Virginia and as adjunct assistant professor of History at Old Dominion University in Norfolk, VA. Douglas is the author of American Women and Flight since 1940. She received her A.B. in history from Wellesley College and holds A.M. and Ph.D. degrees in the History and Sociology of Science from the University of Pennsylvania.
 
Richard Zauft, Dean of Lesley University College of Art and Design & Artist
Prior to becoming Dean of LUCAD, associate vice president of academic affairs for Emerson College in Boston, where he also served as executive director of the Institute for Interdisciplinary Studies, interim dean of liberal arts, and dean of graduate studies.
He designs, illustrates, and hand prints letterpress printed broadsides (prints) and books that
follow five distinct avenues of interest. These include the visual interpretation of poetry; commissioned commemorative prints for special events; political and social satire and humor; personal celebrations featuring my own poetry; and prints showcasing historical applications of typography.

Nancy Selvage, Artist
"I am engaged with the intersection between dematerialized space and visceral substance.
This juxtaposition has an existential and visual complexity that resonates with my impetus to
capture fleeting insights from the flux of life."
Nancy exhibits her work at Boston Sculptors Gallery and in numerous national and international venues. Clients for large public art commissions include the City of Lowell, MA; Bristol Community College, Fall River, MA; City of Cambridge, MA; Keene State College, NH; the National Park Service, Grand Canyon, AZ; and the North Carolina Zoo, Ashboro, NC. Nancy Selvage received a BA in Art History from Wellesley College and an MFA in Sculpture from the School of the Museum of Fine Arts/Tufts University. Nancy Selvage's educational career includes a long tenure as Director at the Ceramics Program at Harvard University. http://nancyselvage.com/

David A. Lang, Sculptor
"I have been active as an artist for all of my adult life. Since 2005 I have been constructing interactive Kinetic Sculpture from my studio in Natick MA. I am also a painter, photographer and writer. I chaired the Art Department at Middlesex School in Concord, MA from 1972 thru 2003. I was a flight instructor at Hanscom Field in Bedford, MA for 24 years." http://www.davidlangstudios.com/
Christian Herold photos