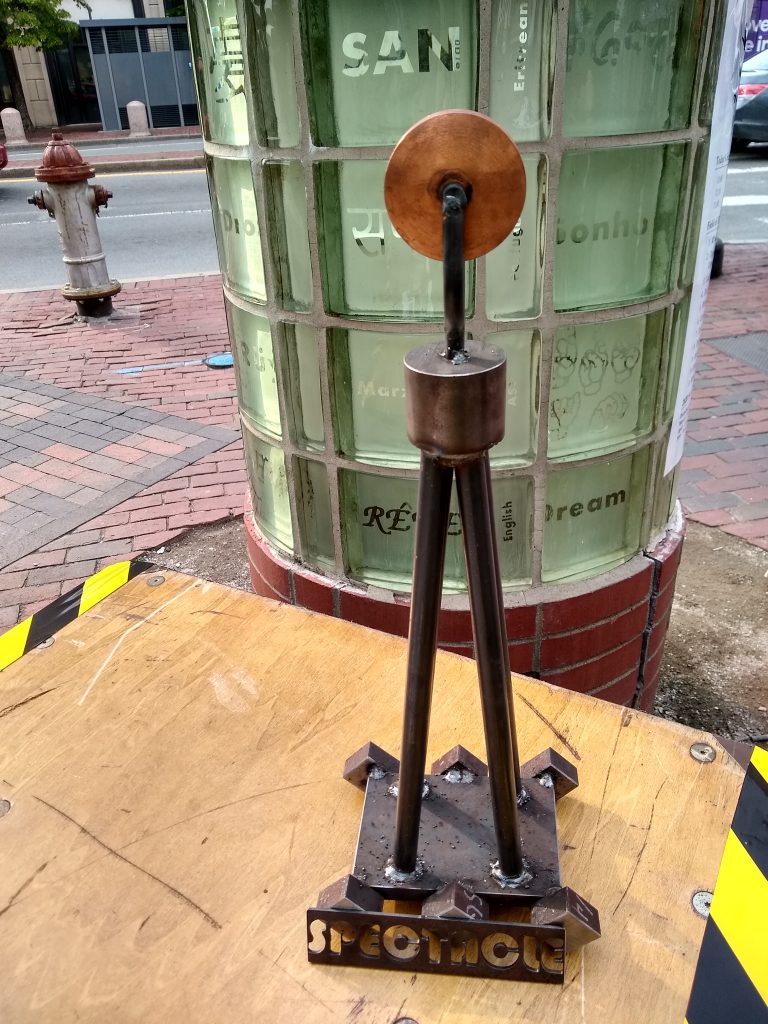 Reid Drum, one of this year's jurors, generously created our remarkable trophies–for Spectacle, Speed, and Ingenuity. The Spectacle trophy is above. Ingenuity, not shown, features an aluminum wheel, which required a special forge, as it melts at a higher temperature than copper wheels, as above.  Drum, a MassArt faculty member, runs the school's industrial-scale, 11,000 S.F. foundry. He is a kinetic artist, and teaches classes in kinetic art and sculpture-making.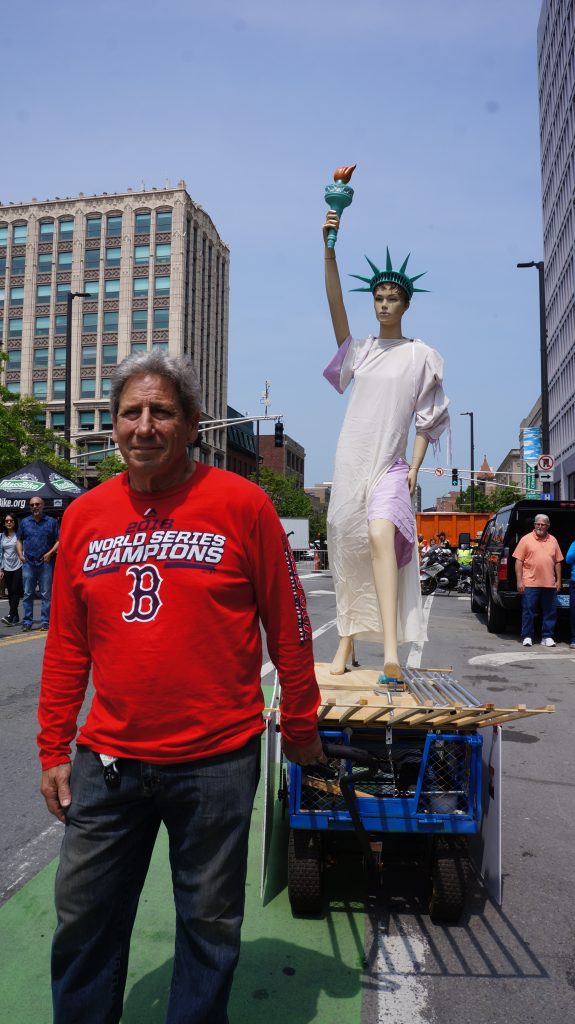 Steve Hahn won the award for Spectacle with his all-new work Lady Liberty Kickin' Down the Wall.  The Lady's foot rises to kick against the wall, which falls, then rises again. The crowds of the great People's Republic of Cambridge lining the streets cheered the Lady as she passed!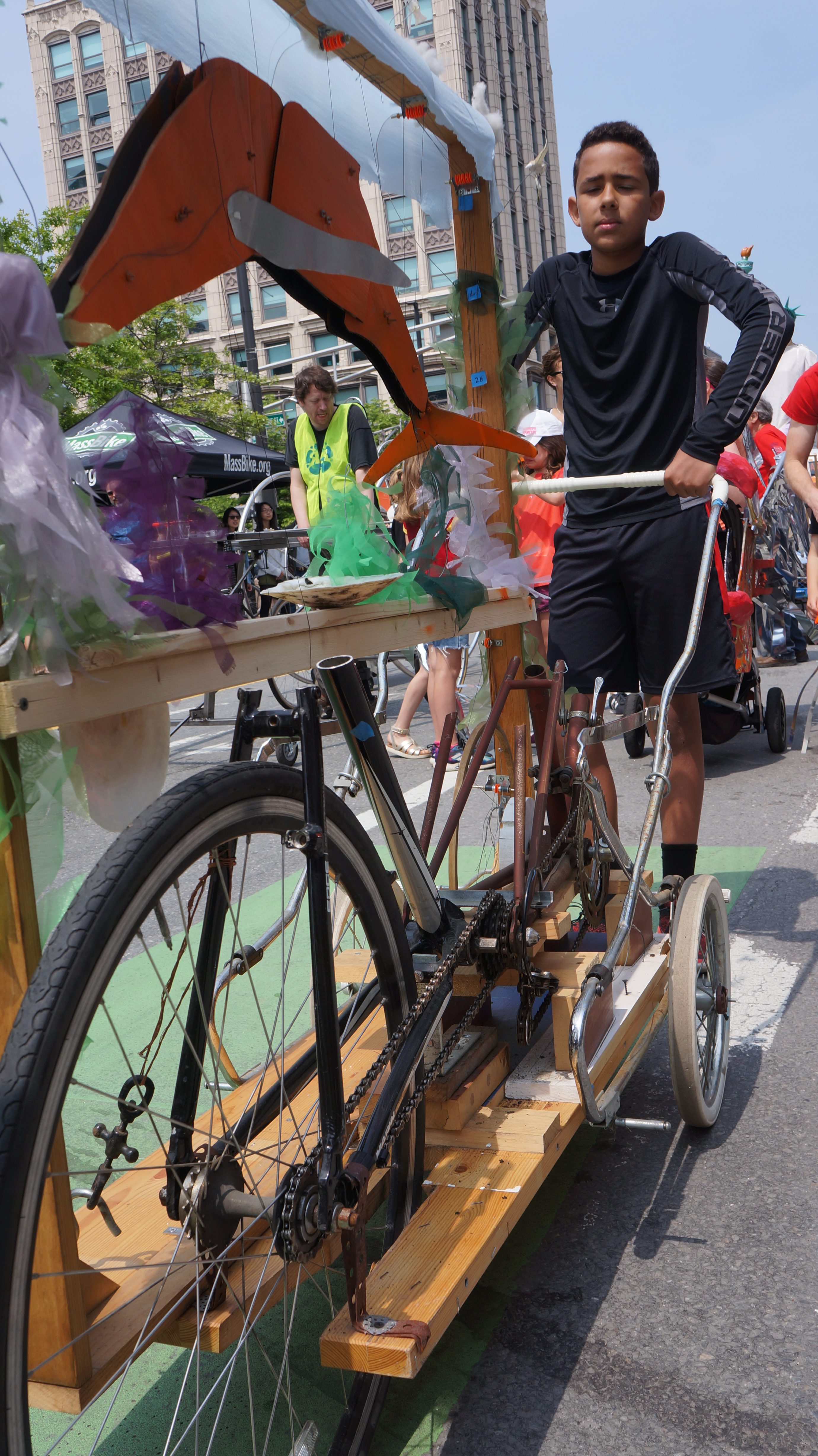 The Schainker-Frehywot Family won the award for Ingenuity, for Whale for using an ingenious kinetic control wheel. The mechanism was inspired by Rueben Margolin (https://www.youtube.com/watch?v=D2HF-1xjpP8&t=474s 6:24 – 6:53). The rotational movement generated by the "control wheel" generates the wave like motion of the whale. They also happened to be the fastest in the race, so the speed award this year went to….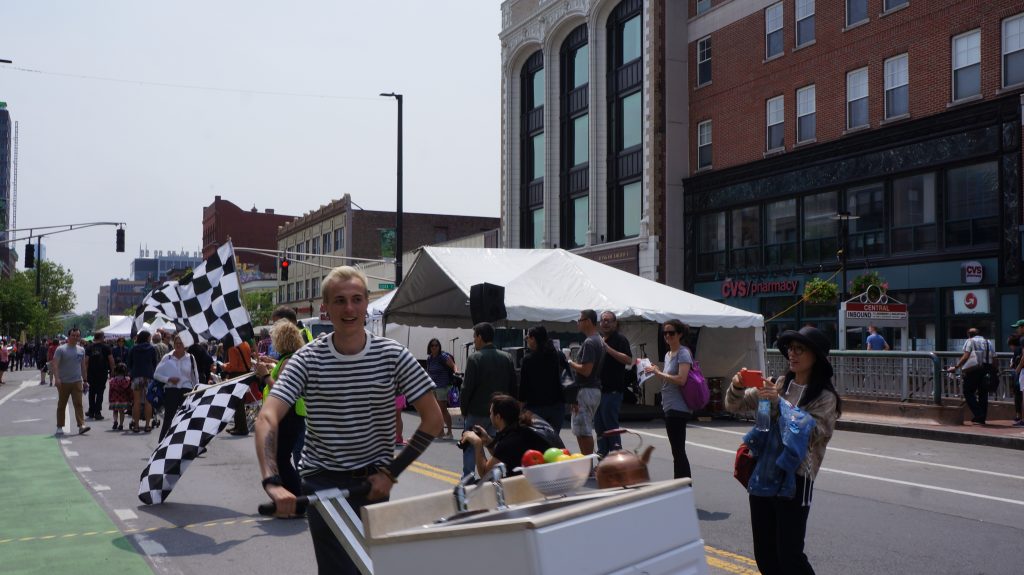 The Speed trophy went to Mac Peirce, for Including the Kitchen Sink! This is the second year in a row Sink! won the Speed trophy. This fabulous work includes very interesting kinetic aspects: As the sculpture is pushed forward, the teapot turns between clockwise and counterclockwise positions, operating as "a Boolean variable container (0 or 1). Over the course of the Peoples Sculpture Race's path the kettle displays 96 Boolean positions, enabling it to articulate a 12 byte character sequence, like HELLO WORLD!" One day soon, he'll get the ingenuity trophy!
The muses love all sculpture racers, regardless of whether PSR awards them!