On your mark, get set….
World sculpture racing co-founder Geoffrey Koetsch starts off the race, April 26, 2015.
Photos by PSR photog Andrew Held (except for Canard & map)
A sculpture racing demo concluded the Sculpture Racing Design Exhibition at the MIT Museum. It was a great day for sculpture racing newbies to rehearse their acts, and for old-timers to show them how it's done!  Three prototypes and three legacy racing sculptures took part:
Dizzy (2015), created by teens from a Parts and Crafts afterschool program in Somerville led by PSR Chief Engineer Jeff Del Papa.  Dizzy was raced by Jeff and its teen makers.
Flock (2015), created by Artist Operation, whose team consists of T.T. & Dennis Svoronos and Rory Beerits, all PSR members. Flock was raced by T.T. and Rory.
Canard (2015), created and raced by Jehanne-Marie Gavarini.
Giant Baby Carriage (2012), created and raced by Anonymous.
Leonardo's Flying Machine (1999), created by Mitch Ryerson. The work is on loan from Revels. Ryerson turned the handles that flapped the wings. Lajos Heder and others pulled the Machine.
No. 2, the late Bill Wainwright's big wheel that raced in the World Sculpture Racing Society's inaugural race in 1982. The work is on loan from PSR supporter Lionel Spiro. The MIT Museum has expressed interest in acquiring the work for its collection. James Herold raced the wheel.
The race started at the corner of Massachusetts Avenue and Pilgrim Street, proceeded north up Pilgrim, turned right onto State Street, then took the next right onto Windsor Street, and the next right onto Front Street.

Following tradition, racers line up helter skelter. May the best art win!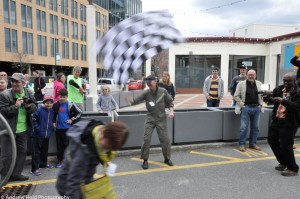 GO!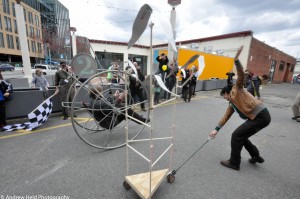 Canard leads (Jehanne is partly visible ahead of T.T.), followed by No 2., then Flock.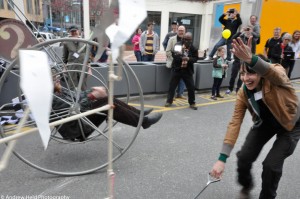 T.T. gains new familiarity with Flock's racing profile.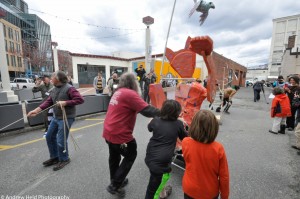 Dizzy takes off.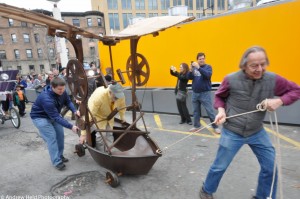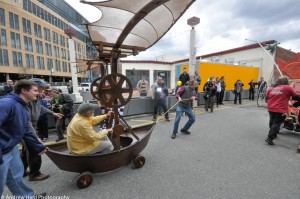 Leonardo's Flying Machine takes wing! Lajos Heder pulls Mitch Ryerson.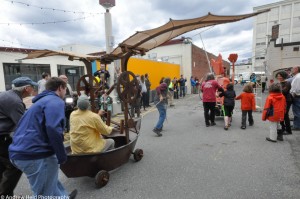 Flapping wildly, Flying Machine seeks liftoff.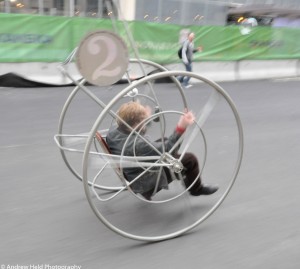 But No. 2 attains incredible momentum.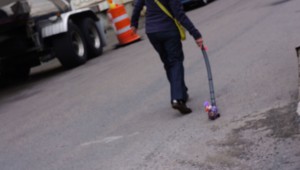 Sleekit, cow'rin, tim'rous beastie Canard holds the lead, e'en with wee wheels!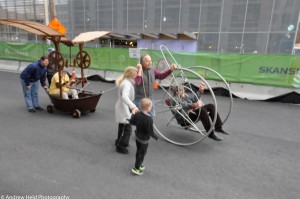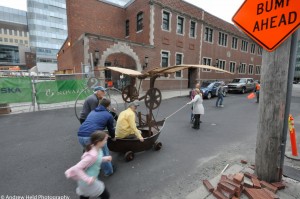 Flying Machine gains on No. 2!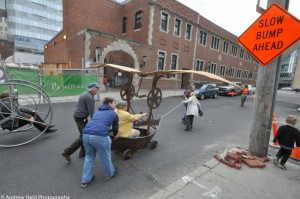 And passes!!!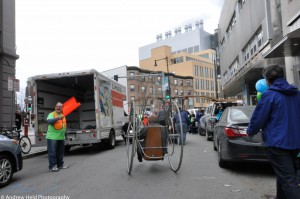 On to the finish line!!!
–>Video to come.!<–
 Special thanks to Faith Marie Dukes and the MIT Museum
for making this demonstration race possible.