"SCULPTURE RACING is kinetic art in which both artwork and mover are perceived as one; sculpture races are dynamic groupings of art objects and personalities"– Geoffrey Koetsch, from The First Manifesto of Sculpture Racing
Geoff, an interdisciplinary artist, is a professor of art at the Lesley University School of Art and Design. He is the Founder and Director of The Arts Collaborative Inc., serves on the advisory board of People's Sculpture Racing and the Institute of Contemporary Art in Santa Cruz, and is a recent director and board member of Contemporary Arts International.
Geoff curates with his Lesley colleague Ellen Schön, and was a producer/curator of the First Biennial Festival of Sound Art and Performance Art at The Quarry in Acton in 2013.
He performed a multimedia piece "Rub a Dub Dub" at Mobius Artists Space in 2014, and "The Preparation," at Sculpture Walk, Old Frog Pond Farm in Harvard, MA in 2013. Along with the World Sculpture Racing Society project, in the 1980s Geoff produced the N.E. Artists Books Symposium, was program director of Metropolitan Artists and Poets, and co-founded and directed the Theater of Kinetic Sculpture.
His many professional fine art shows are enumerated along with marvelous images on his website.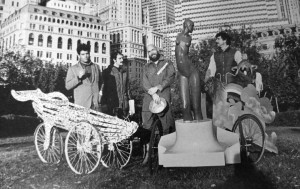 World Sculpture Racing Society (co-founder Geoffrey Koetsch in middle)
 Some of Geoff's Racing Sculpture